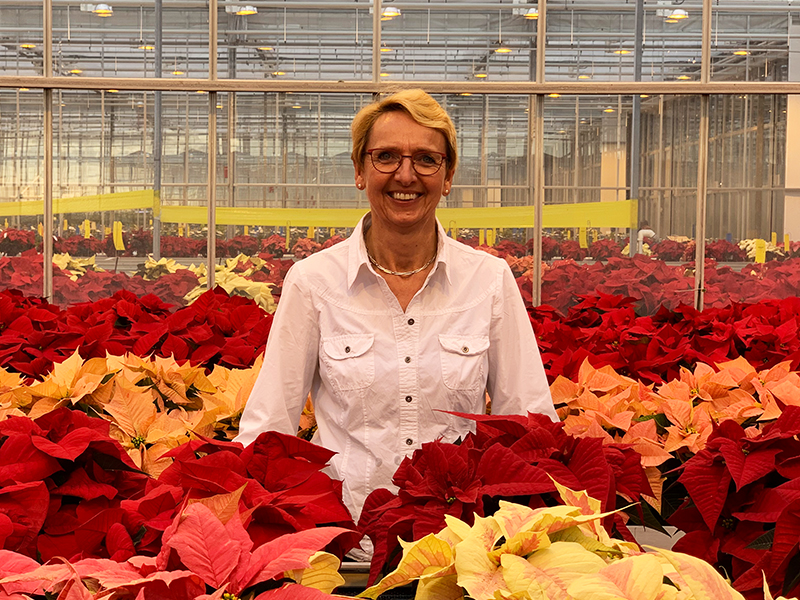 Be Beekenkamp – Ans van der Velde is proud of her team that develops new varieties with customer requested characteristics.
In 2017 Ans van der Velde started at Beekenkamp Plants as Manager Breeding, a new position with the freedom to develop a team with the goal of expanding Beekenkamp's genetics. Quite a lot has changed in four short years! Under Ans the breeding team has grown to 14 colleagues, the breeding department continues to grow in its own crops, and in 2021 the construction of a new breeding facility will start. Ans is enthusiastic about the changes: "Developing improved varieties, that's what you ultimately do it for, right? To see all those plants bloom in different shapes, sizes, and colors, it's the best thing there is!".
Ans and her team ensure that Beekenkamp Plants brings continuously improved varieties to the market. These can be completely new additions, but also color improvements in an existing series. Ans wants to give her team the tools they need to do their job well. Because of this she also works closely with other departments. "When I came to work here, there were mainly small groups of colleagues. My goal was to connect and strengthen each other. And I think that worked out nicely!" Ans smiles proudly.
Poinsettia
It is December and traditionally this is the time for Poinsettias. "It is not surprising that the Poinsettia is associated with Christmas: 90% of the Poinsettias you see in the stores are red. The other 10% are white, pink or "glitter". It takes about 6 years to get a new Poinsettia on the market." Ans works with her team on this interesting process.
It all starts with pollinating an existing Poinsettia. During pollination, the pollen grains of Poinsettia A are transferred to the pistil of Poinsettia B. After about 3 months this plant creates a seed box containing several seeds. These seeds are cleaned, kept refrigerated and then sown. Once a seed has grown into a seedling, a mother plant is made from the selected numbers. "However, these mother plants are not the Poinsettias as we know them. The Poinsettia does not branch by itself; this means the plant only grows in length. To get a branched and more compact Poinsettia, it must be grafted." Ans explains.
A cutting is taken from the long poinsettia mother plants and is then grafted onto a rootstock containing Phytoplasma. Phytoplasma takes care of the branching. The grafted Poinsettia is placed in a tunnel with high humidity, the ideal conditions for the grafted plant to grow. From this grafted mother plant cuttings are picked and moved to the greenhouse to bloom. This starts with "rusting", meaning the leaves start to discolor. When the plants are in full bloom, they are compared to see which ones perform the best.
Ultimately, these top performers are put in the shelf-life room which simulates transportation and the consumer life cycle. This tests whether the Poinsettia can withstand the rigors of shipping and still provide a long-lasting plant for the consumer. Watch the video below for the entire process of developing a new Poinsettia!
Family business
"In addition to being extremely proud of my team, I am also very proud to be able to work for the Beekenkamp Group. It is a real family business that pays attention to the staff. This is extremely important: the company is ultimately your people! By appreciating your staff, you realize more involvement with your company", Ans explains enthusiastically. Beekenkamp subscribes to the core values of reliability, commitment, and innovation. "I agree 100% with this", says Ans. "We are reliable because we are a transparent company that keeps its promises. Beekenkamp is committed to its employees and involved with its customers. We are also innovative in the crops which we breed. Being innovative is a prerequisite for survival."