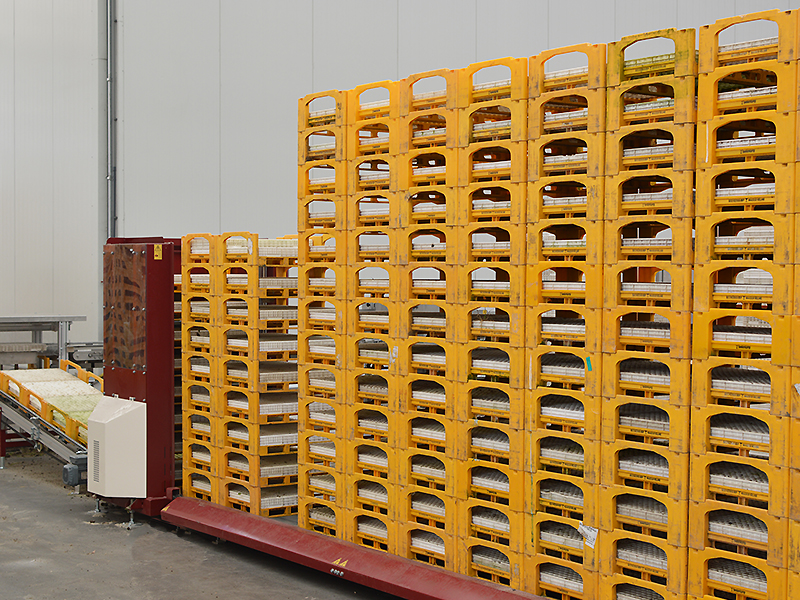 Beekenkamp Plants Vegetables invests in a new machine for processing packaging
Every year, over 200 million cabbage plants are delivered throughout Europe by Beekenkamp Plants. This means that the trays in which the cabbage plants are supplied will also be returned to our location in Maasdijk.
Returning the trays or boxes is a major logistics operation for our colleagues in the production. Thousands of trays and boxes return daily. Empty plugs or potting soil regularly remain in the recurring trays or boxes. These must be stacked, emptied and washed where necessary. These remain recurring activities happen during busy, hectic times.
The colleagues from the production team, together with the colleagues from the Technical Service, have initiated a plan to come up with a solution for this together with Flier Systems. A machine has been developed that is specially made for Beekenkamp Plants. This machine is multifunctional, it is suitable for the Tray 315, Tray 280, yellow cultivation plates for fruit crops and boxes for press pots.
The purchase and development of this new machine has resulted in enormous labor savings. Where previously 5 or sometimes 6 colleagues were busy with the packaging processing, the new machine runs with 1 or 2 colleagues. 1000 trays or boxes per hour can pass through, making the packaging even faster to process.
The first plans for the machine started at the end of 2019. The machine runs completely for a week on the date of writing. The results are already very positive! See the video of the new machine below.
By purchasing this machine, Beekenkamp continues to invest in the automation of the company and continues to grow for the future.