Hygiene and quality
We are constantly introducing innovations in our production facilities, hygiene measures and quality standards. Our cultivation chambers, water disinfection systems, internal transport and seed and selection techniques are always under review to ensure that we achieve the best possible results.
Latest technology for fruit vegetables
In the Netherlands we grow our young vegetable plants in 18 ha of ultra-modern greenhouses, as far as possible without the use of chemicals. We apply the latest technology to ensure that we always supply top-quality starting material for tomato, cucumber, aubergine or pepper.
Camera sorting systems, 6,000 lux lighting, ebb and flow floors, insect screens, UV disinfection and an Opticlear Diamond system for irrigation water purification enable Beekenkamp to guarantee healthy and uniform vegetable plants.
Press pots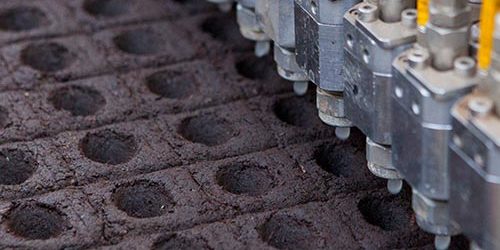 Beekenkamp uses the latest pressing and sowing techniques to produce young leaf crop and brassica plants in press pots with guaranteed constant high quality. We produce 3, 4, 5, 6 and 8 cm press pots in an automated system using high-grade certified compost.
AN OVERVIEW OF OUR PRODUCTION SITES