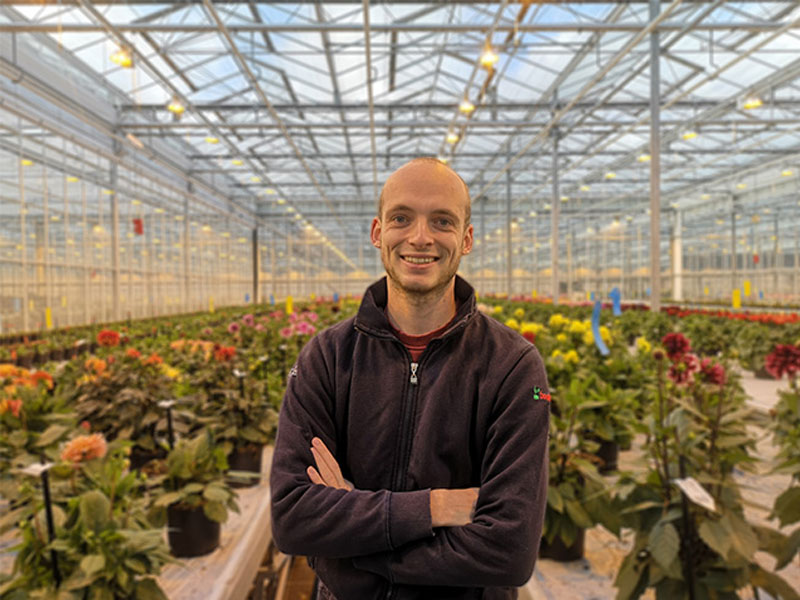 Be Beekenkamp – Geert Peters is proud of all team players of Beekenkamp Plants
Geert started working at Beekenkamp Plants 2 years ago as a Product Assistent and has grown into a Product Specialist within two years. Beekenkamp is a breeding company. This means that we develop new and improved varieties through breeding; the crossing of plants. This is done in the lab and in the greenhouses. Not only the most beautiful, but the best plants will eventually appear on store shelves worldwide.
"And we select the best plants!" Geert says enthusiastically. New varieties emerge from this propagation process. These varieties must meet all kinds of quality requirements so that the grower, the trade and the consumer buy the best product. It can take up to 6 years for a plant to become commercial. The plant has to go through several phases before we are convinced that a variety is better than what is already available on the market.
"Simply said, a plant is first tested by the Breeders for 3 years. The selection of plants that has passed all the tests, goes to the product specialists. They test the plant (depending on the species) for another 3 years. The tests are more extensive every year. On average, about 0.5 to 2% of plants that come from the Breeding Department become commercial. This differs a lot per crop!
"A plant goes through different phases. We test for color, shape and leaf retention, but also for example, for resistance to fungi and insects. We test the shelf life during transport and we test how the plant performs on the store shelves. At the same time, the new plants end up in the show garden in the Netherlands, where we assess whether the consumer will enjoy them. We also test this in other climates and therefore in other countries.
In the short time that Geert has been working at Beekenkamp Plants, he has already achieved a lot. He goes to America once every 3 months to assess tests there. To travel to America as a 24-year-old is of course fantastic! In America he is mainly busy at work, he visits several trial gardens (the same idea as a show garden) to see how our species are doing in the climate of that particular region. "By seeing our varieties in different climates, I can give good advice to the Sales Department". As mentioned above, Geert works closely with the other departments within Beekenkamp "You really are a spider in the web." This is also what Geert is proud of, that Beekenkamp, together with all departments, brings a good end product to the market. "