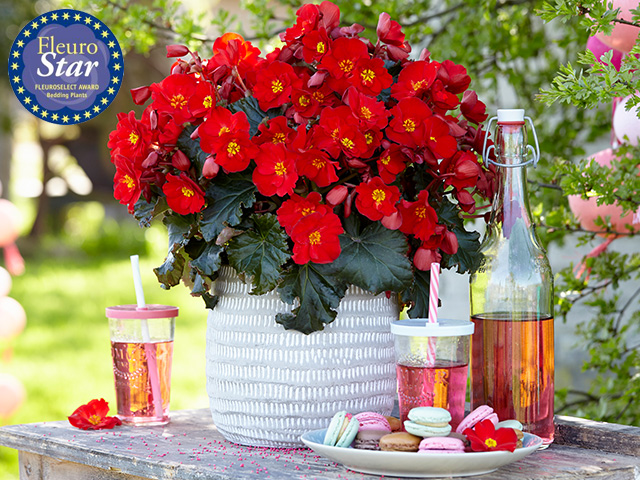 Beekenkamp Plants presents the winner of the Fleuroselect Award: The Dreams MacaRouge
We are proud to present our new DREAMS member: the Dreams MacaRouge! This bright red begonia with a shiny yellow heart brightens up any garden. The MacaRouge is suitable for the large pot size and is very vigorous. The MacaRouge also needs little care, can withstand rain and sun, shows good shelf life results, has a nice round shape and flowers until the first frost!
"As a breeding company you are always looking for something new, something surprising. With the MacaRouge we immediately had the idea that this could become a popular product. The MacaRouge is a beautiful plant in itself, but together with the MacaRose they will colour up every garden!" said Sirekit Mol, Marketing Manager at Beekenkamp Plants.
Marc Driessen (Director Beekenkamp Plants Ornamentals), Cor Bremmer (Commercial Director), Ans van der Velde (Manager Breeding) and Sirekit Mol (Marketing Manager) have received the prestigious prize with pride. "We first saw this begonia circa 5 years ago, so we are extremely proud that the MacaRouge is now being recognized. This prize is a great reward and confirmation of our work and we are very proud of that." Says Ans van der Velde, Manager Breeding.