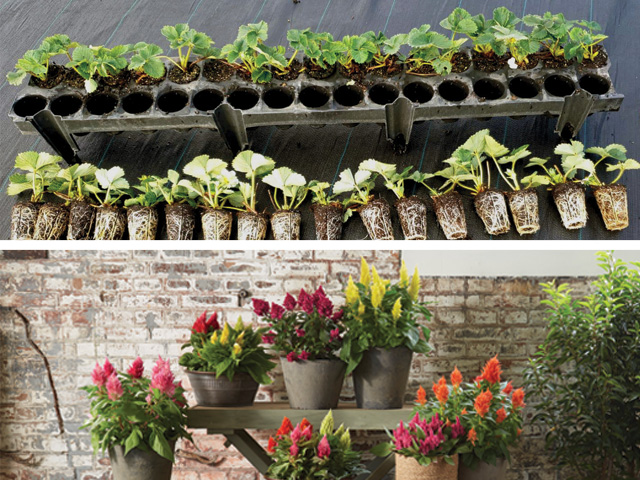 Beekenkamp Plastics and Plants combine forces during the Canadian Greenhouse Conference
The Canadian Greenhouse Conference is the ultimate meeting place for growers, suppliers and research partners in Canada. Beekenkamp Plastics and Beekenkamp Plants Ornamentals are joining the show together to show the wide range to the Canadian and North American market.
Beekenkamp Plastics presents its complete range for soft fruit growers. For vegetable growers, Beekenkamp also presents logistic solutions including potato, vegetable and fruit transport boxes and our cucumber harvesting box. Beekenkamp Plants shows two colorful products from their own breeding: the LaBella® Dahlias and the Kelos® Celosia.
"Despite the major differences between Beekenkamp Plastics and Beekenkamp Plants Ornamentals, there are also many similarities. Both companies are seeing substantial growth in the Canadian and North American market. By sharing knowledge and joining forces, we are stronger in the market. We combine the forces of both companies, which makes Beekenkamp a strong partner for the entire supply chain, "said Sirekit Mol, Marketing manager Beekenkamp Plants.
The highlights include the new California strawberry substrate tray, the 34-hole strawberry plug tray, the versatile Dahlias and colorful Celosias.
"California strawberry substrate trough" for gutter growing
Developments in soft fruit are in full swing in Canada. The demand for a suitable reusable strawberry-growing trough for gutter systems is part of this development. Beekenkamp is meeting this demand with a new strawberry-growing trough, the "California strawberry substrate trough". Beekenkamp's "California strawberry substrate trough" is a strong 1-metre growing trough that is a perfect fit for all known gutter systems.
34-hole strawberry tray developed especially for strawberry plug plants Beekenkamp has developed a 34-hole strawberry tray with a cup volume of 85 cc for the propagation of strawberry plug plants, also known as "Misted tip" plants. The 34-hole strawberry tray 85 cc has extra-high feet, which means that the roots never touch the ground, ensuring a much lower failure rate than in one-off deep-draw trays.
Dahlias and Celosias
LaBella® Dahlia is known for the width of the range. "From big to small, we have it all". In addition to the choice of sizes, there is also a wide range of colors available. Extra special are the so-called "fun colors". They also show a "Splash of colors" with the Kelos® Celosia. These colorful plumes are not only beautiful to look at, but also excel in terms of shelf life on transport and in the store.
The Canadian Greenhouse conference takes place on October 9 and 10 at the Scotia Convention Center, Niagara Falls. Beekenkamp can be found at stand # 1506.