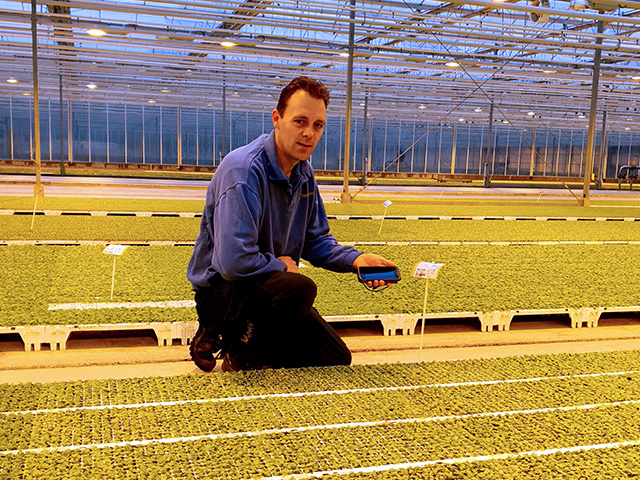 Be Beekenkamp – Joost van Dijk is excited about the new 4G scanners
Since 5 years, Joost van Dijk works at Beekenkamp Plants Ornamentals being responsible for the production processes. He is very excited about the new 4G scanners and today he told us everything about it!
After a successful test period, Beekenkamp Plants Ornamentals is now working with new 4G scanners. These scanners replace the old-fashioned scanners and ensure insight, efficiency and reducing mistakes.
To understand the differences and the benefits, some explanation is needed. For example, the customer orders 4,500 Begonias and wants them to be delivered on the Wednesday in week 24. Our ERP system automatically calculates the sticking and sorting day. This data is recorded in the system. All our young plants trays are provided with a barcode. The barcodes are being scanned during all steps. This makes the traceability of each tray clear and insightful.
"The new 4G scanners make the entire system cleaner and ensure greater reliability towards the customer," said Joost van Dijk.
The biggest advantage of this 4G scanner is that it is wireless and updated live. It can therefore be used at all Beekenkamp locations and even in external greenhouses. This smart scanner links the scanned data live with the data of the system and therefore quickly knows if there is an issue with a batch. Our colleague from Production immediately receives an automatic message from the system: "note: this batch should have been sticked yesterday, but this has not yet happened". This can be checked and resolved immediately where necessary. In addition, these scanners provide a direct print order to the new seed lines. Previously, the system had to be logged in, the batch was manually searched and sent to the printer. Now it is directly sent to the printer via the barcode. This is faster, more efficient and less error prone.