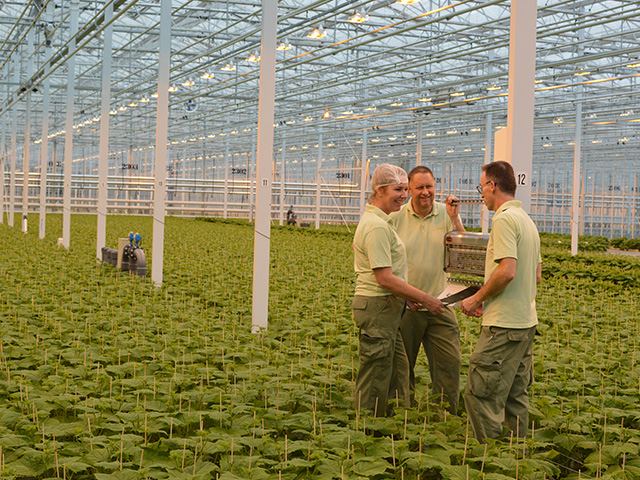 Be Beekenkamp – Nathalie Zwinkels is proud of the new digital scout system
Nathalie Zwinkels has been working as a Crop Protection Specialist within Beekenkamp Plants for 3 years. "Crop protection is the best and most challenging job there is," says Nathalie. "Digitization is becoming increasingly important in horticulture and I am proud that this also happened at Beekenkamp! We have recently started using the LetsGrow app to digitize scouting ".
As a crop protection specialist you are discovering and mainly preventing pests and diseases. In collaboration with the cultivation colleagues, protocols are made for scouting and for monitoring the crop. Nathalie is also a supporting factor for representatives and customers. She also maintains close contact with "the neighbors", the surrounding growers at our locations to exchange information and knowledge. A very important and diverse job that she is very proud of!
The Beekenkamp Plants Vegetables department has recently started working with the LetsGrow scout app. A working group was set up a few months ago with colleagues from the IT department, cultivation and crop protection to compare different providers of the app. The pilot was run at the location in 's-Gravenzande and is currently being rolled out to the other Vegetables locations.
How does it work?
At the location in 's-Gravenzande, our colleagues Yve and Patrick disinfect their phones and go into the greenhouse. They open the LetsGrow app, which is tailor-made for Beekenkamp Plants. There are 9 sticky plates in each section. They are passing by all sticky plates in the greenhouse and fill in their scout counts in the app. Comments can also be placed and photos can be shared. Scouting in this way is done weekly.
The scout counts are transferred to the online environment on the PC where Nathalie can view all the results. The results are converted into graphs and tables with which a well-considered decision can be taken with regard to crop protection on a weekly basis in consultation with the growers/scouts. This consultation takes place at a fixed time of the week in the greenhouse so that the associated batch is always viewed again.
The biggest advantage of this app is that no more piles of paperwork are needed, everything is digital. Another advantage is that predictability can be created for recurring situations. The app and the online environment provide a lot of valuable information, which means we can be even more alert to crop protection. This app gives Beekenkamp Plants Vegetables a better understanding of what is going on and what threats are current. Because of this insight, switching can take place faster and faster, which results in beautiful, healthy plants for the grower.