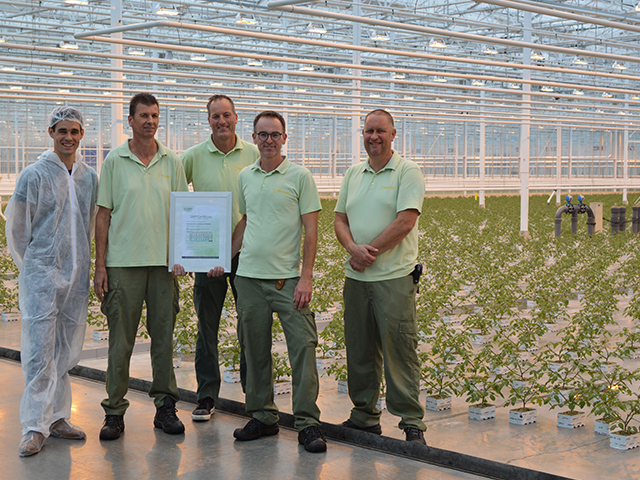 Beekenkamp Plants is proud of hygiene certification GSPP
Beekenkamp Plants Vegetables is proud of the fact that they are 1 of the 3 Dutch plant nurseries that are officially accredited as  GSPP company! The Beekenkamp Plants Vegetables team is ready for the start of the fruit vegetables season. Beekenkamp has been GSPP certified since 2012.
Reliable
One of the core values ​​of Beekenkamp Plants is "being reliable". Due to the GSPP accreditation, the highest attainable hygiene certificate for plant growers, Beekenkamp Plants can deliver a reliable product of the highest quality.
GSPP (Good Seed and Plant Practices) is an international business chain system that is all about hygiene in seed production and plant breeding to prevent pathogens. Specific attention is given to Clavibacter michiganensis subsp. michiganensis (Cmm) with this protocol.
Because Beekenkamp is GSPP certified, there is a good foundation that can be widely used for all kinds of other pests and diseases. The knowledge of GSPP can be translated into other current (virus) threats. As a result, Beekenkamp has recently taken additional measures in the area of ​​hygiene. These extra measures ensure that many other plant diseases, such as viruses, are being kept outside.
To use the GSPP protocol, all processes are assessed for the 4 risks (water, people, materials and plant material). For example, the water is internally purified by UV filters, staff wears washed daily company clothing and visitors also have to wear complete hygiene clothing. In addition, there are completely separate product flows (dirty and clean cask), there are disinfection locks for hands / footwear, and only GSPP certified seed is used at the GSPP locations. These are just a few examples from a larger entirety that the entire Beekenkamp Plants Vegetables team is working on every day.
These measures are regularly audited internally and annually by Naktuinbouw. GSPP keeps Beekenkamp Plants sharp. Hygiene in vegetable growing remains a fundamental part for Beekenkamp.
Committed
The second core value of Beekenkamp Plants is " being committed". The customer is important and is closely involved in the process during cultivation. With a personal approach, short lines and flexibility, we are proud to characterize the Beekenkamp culture.