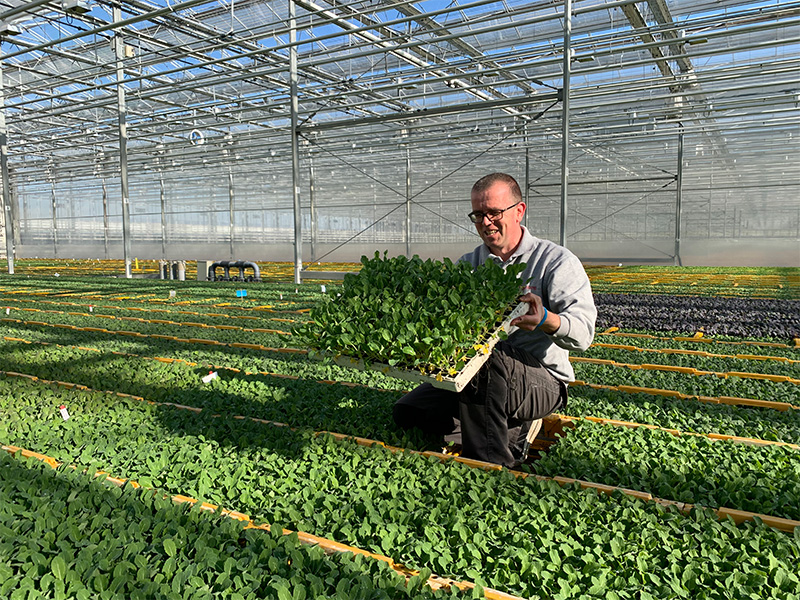 Brassica season has started! Beekenkamp Plants Vegetables supplies hundreds of thousands of brassica plants to professional growers in Europe every day.
Brassica young plant delivery season has started in week 7 and continue until week 32. For the coming season, more than 200 million brassica plants are scheduled to be produced. The Beekenkamp Plants team is ready and energetic. Marc Balemans, Cultivation Coordinator of Brassica Crops, tells: "After a quieter period, the numbers are starting to increase and we ensure that customers receive the best quality brassica plants, as they are used to from us."
First press pots, then trays
The first brassica plants of the season are made in press pots because the weather conditions on the land require the growers to do so. A brassica plant in a pressed pot has a large root ball from which a large plant grows. These plants are sturdy, more developed and on land more resistant to winter conditions such as wind and cold. From week 8, the first tray plants are delivered from the production locations in Maasdijk and Lutjebroek. These are brassica plants in Tray 96. The plants in Tray 96 have a larger root ball and are located between the pressed pots and Tray 315 and Tray 280.
How does Beekenkamp ensure that they make the perfect brassica plant? Marc explains: "A good brassica plant should not be too lush and should have good roots. The plants must be super hard. The plant must be developed in such way that it immediately grows well in the field. It needs to withstand all weather conditions. We keep this constantly in mind and this is always the norm for us."
Grow organic propagation
Beekenkamp Plants Vegetables produces brassica plants for all conceivable types of brassicas. These go to the Netherlands, Germany, Switzerland, France and Denmark. The largest products are cauliflower and broccoli. Beekenkamp is also growing considerably this year in the organic cultivation of brassica varieties. In weeks 13-23 a lot of Brussels sprouts and headed brassica such as white and red cabbage plants are produced and delivered.
Trend
The horticultural sector is becoming more innovative and more efficient work is being done. More and more brassica growers are working with fully automatic planting machines. This requires new requirements for the young brassica plants, such as, better retrieval by making a slightly shorter plant in a tray. Beekenkamp Plants thinks along with the growers and responds to this trend by growing increasingly customer-specific cultivation.
Development
Beekenkamp continues to develop by following the principles of new cultivation. Our colleagues are increasingly implementing new cultivation in the cultivation of brassica crops. New cultivation includes data-controlled, energy-efficient and illuminated cultivation.