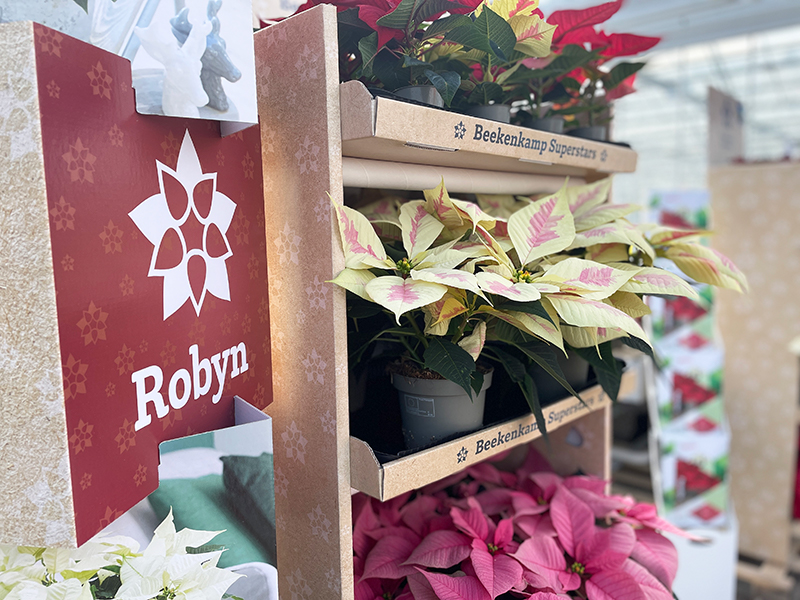 Beekenkamp Plants, Dümmen Orange and Lazzeri Giovani Piante jointly organise Poinsettia Trials
Breeders Beekenkamp Plants, Dümmen Orange and Lazzeri Giovani Piante are joining forces to organise joint Poinsettia Trials again this year at The Master Growers in Honselersdijk. During the trials on 3 and 4 November, growers, retailers and trade will have the opportunity to view the three companies' wide range of poinsettias.
"This cooperation offers additional opportunities and possibilities for us as a company and also certainly for the entire chain who can spend their time efficiently through these joint trials," said Ard van der Lugt, Product Specialist at Beekenkamp Plants. Beekenkamp Plants has been a breeder and propagator of Poinsettias for years. During these trials, the entire chain has been invited to be informed about the differences, shelf life and other properties and qualities of all varieties. Besides the existing Superstars, special attention will be paid to 3 new Poinsettia and Princettia varieties, 4 experimental varieties and 13 never-before-seen Poinsettia and Princettia varieties.
Dümmen Orange offers visitors an overview of the current Poinsettia program as well as the Breeding pipeline for the coming years. Customers can compare novelties with the well-known varieties. Because Dümmen Orange has a huge and varied range, everyone will find the right product. It does not matter whether it is a specialty, suitable for special product shapes or classic in red. With the Freya, Ferrara and Atla Dümmen Orange offers three very strong red varieties. The Freya White and Freya Pink are a great and colourful addition to the successful red Freya, forming a uniform family with great characteristics. Next to that, Dümmen Orange added a new white variety to the assortment. This variety is called Polar Star.
This year for the first time, breeder and young plant producer Lazzeri Giovani Piante will also participate in the Poinsettia Trials. Andrea Lazzeri, Global Product Manager, is excited about this joint event, "It will be an excellent opportunity for producers and the whole Poinsettia chain to meet and confront each other. Three growers at the same time, an opportunity to seize!"
Lazzeri Poinsettia breeding is strongly focused on achieving outstanding genetics for the grower and the consumer. With 34 varieties, the assortment is wide and complete. Last year, 2 new red varieties were introduced, Aida Red and Maestro Red, and this year 3 more: Carmen Red, Roccostar Red and Serena Pink, which complete the series. Besides being a breeder Lazzeri is also a young plant producer.
The Poinsettia Trials will be open on 3 and 4 November, between 10am and 4pm.
Visiting address: The Master Growers, entrance via Harteveldlaan 18a