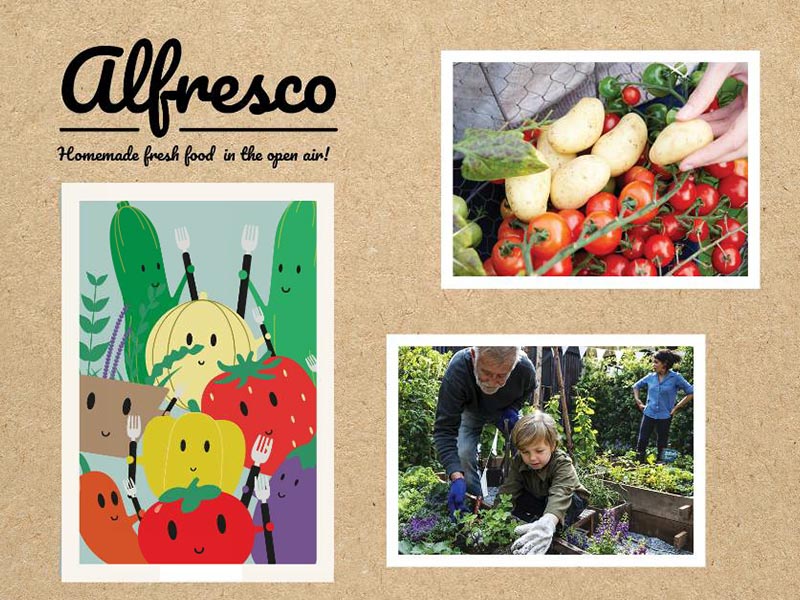 Alfresco – The new concept for hobby vegetables and herbs.
We proudly present you: "Alfresco". The new concept for hobby vegetables and herbs. Alfresco consists of a wide range of grafted and non-grafted hobby vegetables and herbs, for which we use the best selected seeds and which are grown according to strict hygiene rules. Thanks to its extensive experience in the cultivation of both ornamental and vegetable plants, we are a strong player in the market when it comes to the delivery of reliable young plant material.
Alfresco literally means: "good food in the open air" and that is exactly the purpose of the hobby vegetable range. Besides a great taste and a wide range of vegetable plants, Alfresco offers more advantages. Alfresco responds to all current trends; healthy food, fresh food, sustainability, relaxation time for yourself and for your family. Convenience, clarity and fun are central to the new Alfresco concept. Each plant has its own mascot that tells the consumer what the properties of the plant are. The photos clearly show which product it is. This recognizable, attractive style makes it fun and easy for consumers to choose and grow the right products.
"Alfresco serves the entire supply chain with benefits for trade, growers and consumers. The reliable starting material guarantees a high-quality end product, the POS material makes the product an eye-catcher on the shelves and ensures clarity and purchasing pleasure for the consumer, "says Sirekit Mol, Marketing Manager Beekenkamp Plants.
Check the whole assortment on: www.alfresco-vegetables.com