TOP-QUALITY PROPAGATION FOR ALL TYPES OF LETTUCE PLANTS
New! The 3,7-cm press pot with 176 pots per box.
In our nursery, we grow all types of lettuce in 3, 4, 5 and 6-cm press pots. Depending on your wishes, we can supply 3,7 and 4-cm press pots as free-standing or joined blocks. All lettuce plants such as batavia lettuce, curly lettuce, iceberg lettuce and lettuces to be grown under protection are propagated with care in our nursery.
The right treatment. A reliable crop.
Thanks to Phyto-Drip and the "dummy pill", your lettuce plants get the right treatment from sowing onwards. This minimises the risk of disease and reduces the disease control requirements in the field. High quality is the top priority in our certified nurseries.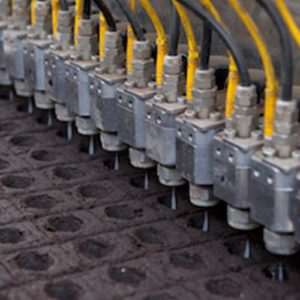 "Monitoring the quality that is so important to our lettuce growers. The reason why I enjoy getting up every morning is so I can ensure we get the best results."