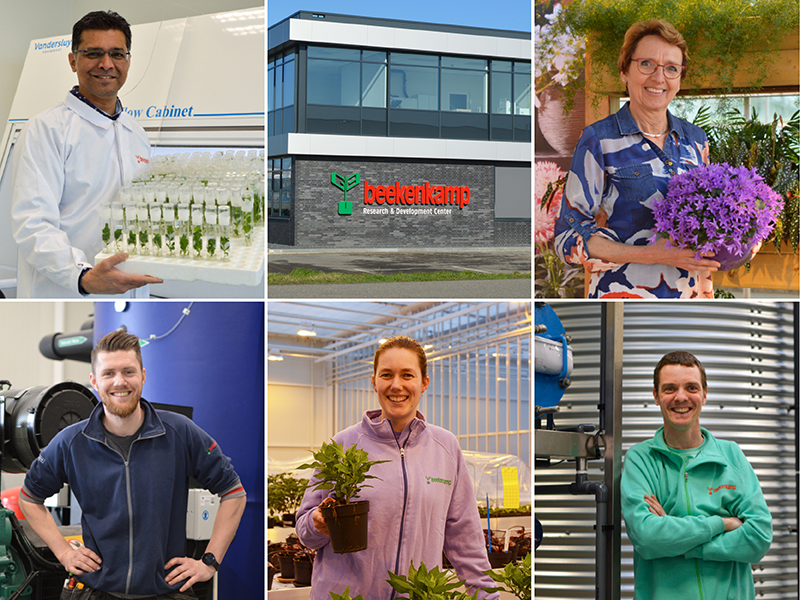 Good start to 2022 for the Beekenkamp Group
MAASDIJK, The Netherlands, – The first foundations of the Research and Development Center (RDC) of the family business Beekenkamp Group were laid in February 2021. Since January 2022, various departments including Breeding and Research have been making full use of this new facility to continue to build on an innovative future.
Together for best result
Erik van Velden, project manager for the Beekenkamp Group, looks back on the past two years with satisfaction. Throughout the whole development process, all the contractors involved, the project team and Beekenkamp staff worked hard to create regularity and structure. "They turned complex issues into easy ones, and I'm incredibly proud of that."
Beekenkamp Breeding Manager Guido 't Hart says: "We have been able to create a state-of-the-art water technology area. From dedicated watering systems to separate condensate drainage, it has it all. Designing an area like this with a good overview of all those different systems and the many water silos was a significant challenge. With a total of nine watering systems, including drip irrigation, sprinklers, ebb/flow and LD-UV, it exudes a huge amount of professionalism."
Ornamentals Breeding Manager Ans van der Velde and her team are also ready to achieve Beekenkamp's ambitions. She talks about what she regards as the Research and Development Center's greatest innovation: the cell block in the greenhouse consisting of three climate cells (phytotrons). "In these special rooms we can regulate temperature, relative humidity (RH) and day length, which enables us to carry out certain activities such as biotesting and crossing programmes under controlled conditions all year round.
The lab in the RDC is primarily focused on three things: the maintenance of ornamental varieties for Ornamentals and the chrysanthemum gene pool for Deliflor, as well as the in vitro propagation of mini tubers for Beekenkamp Vegetables. The opening of this advanced unit is a significant step in the development of the entire Beekenkamp Group. Cell biologist Pankaj Dhonukshe proudly describes his experience to date: "Our brand-new Research and Development Center has ultramodern facilities with lots of space and state-of-the-art instruments that facilitate professional working methods. It enables us to improve our research and production efficiency in cell biology and tissue culture." Pankaj also reports that the RDC strengthens collaboration between research and breeding on creating resilient, colourful varieties under one roof.
In addition to the lab and the breeding greenhouses, much of the RDC is kitted out with special departments for elite plants. "With the RDC, we're ready for the future! The main innovation for the elite departments are the airtight partition walls. The greenhouse construction company created a 'greenhouse in a greenhouse' using the OMAN façade system. This sophisticated, fully rubberised façade was even subjected to a special smoke test to prove that it is completely sealed. This means that we are able to guarantee a truly clean greenhouse environment for our elite and mother stock plants and reduce the risk of pests and diseases in the starting material to an absolute minimum," says Simone de Kok – de Vreede, Elite Coordinator.
Grateful to all partners involved
Beekenkamp Plants Ornamentals director Marc Driessen is delighted with the state-of-the-art Research and Development Center. On behalf of the whole Beekenkamp Group, his thanks go to all colleagues, partners and employees involved in this project for their commitment and efforts during this challenging process.
AAB – Kubo Group – PDI – VB – Royal Brinkman – Kroes – KG Systems – Nijssen – Bos elektrotechniek – Hofman bouwbedrijf – Verkade klimaat – van Daalen – Lab Associates