OUR AUBERGINE NURSERY
Aubergines have always been part of the Beekenkamp range. Our crop specialists ensure that the propagation process will produce the perfect crop. We supply grafted or ungrafted aubergine plants. You select the variety and plant size.
On leaving the Beekenkamp nursery, the aubergine plants are uniform, healthy and robust. We are innovators who constantly working on new grafting and cultivation methods. We also keep the use of chemical crop protection products to a minimum.
60 years' experience with aubergine plants
In its modern greenhouses in the Dutch Westland region, Beekenkamp produces both single and double-headed aubergine plants on concrete floors. Grafted or ungrafted, our experienced crop specialists ensure that your aubergine crop gets off to the right start in rockwool or press pots.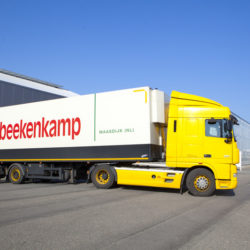 OUR OWN TRANSPORT
Our own drivers take plants directly from our nursery to your premises. They travel from the Dutch provinces of North Holland, North Brabant and Limburg to Belgium, the Scandinavian countries, Germany, Switzerland and France. We supply young plants daily, weekly or as a one-off service in boxes, racks or tray carriers.