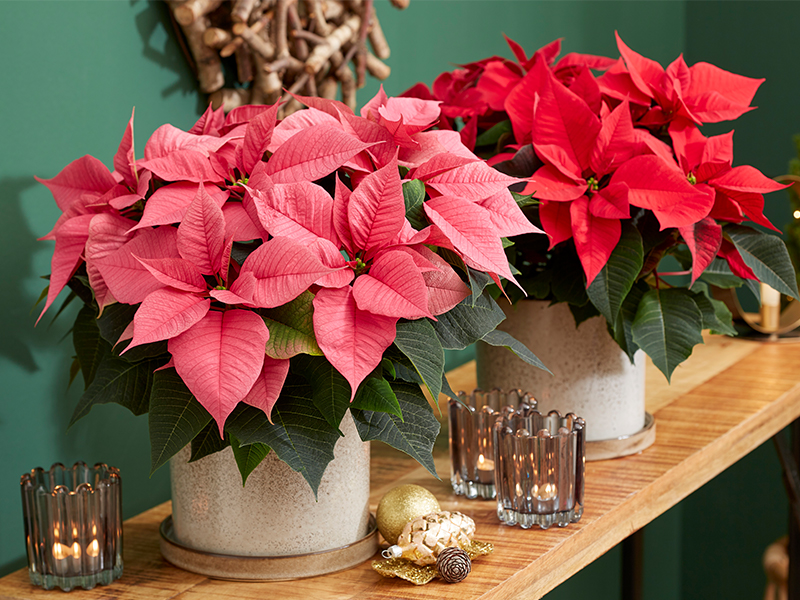 Beekenkamp Plants and Dümmen Orange once again organizing Poinsettia trials together
Breeders Beekenkamp Plants and Dümmen Orange are once again organizing joint Poinsettia trials at The Master Growers in Honselersdijk this year. During the trials on November 4 and 5, growers, retailers and the trade will have the opportunity to view the wide range of poinsettias from both companies.
"In order to make it as effective, clear and easy as possible for customers, we have again opted for a joint trial under one roof this year," says Frank Piron, account manager at Dümmen Orange. "We are pleased that The Master Growers offers us the opportunity to organize this joint trial and that we can show our full flowering range, as well as the latest test varieties."
Ard van der Lugt, product specialist at Beekenkamp Plants: "This collaboration offers extra opportunities and possibilities for us as a company and certainly for the entire chain, who can use their time efficiently this way."
Dümmen Orange offers visitors an overview of the current Poinsettia program as well as the pipeline for the coming years. Customers can compare novelties with the well-known varieties. Because Dümmen Orange has a huge and varied range, everyone will find the right product. It does not matter whether it is specially coloured, suitable for special product shapes or classic in red. With the Freya, Ferrara and Atla Dümmen Orange offers three very strong red varieties. The Freya White and Freya Pink are a great and colourful addition to the successful red Freya, forming a uniform family with great characteristics.
Beekenkamp has been a breeder and propagator of Poinsettias for many years. During the trial, the entire chain is invited to be informed about the differences, the shelf life and other properties and qualities of all varieties. In addition to the existing Superstars, special attention is paid to the 3 newest varieties, namely the early Kayla Red, the white Virgo and Robyn Pink, which can be grown together with the Robyn Red. Also 5 brand new experimental Superstars, accompanied by 15 new breeding varieties, get their own stage during these days. In addition to the Poinsettia, there are also Beekenkamp's well-known Princettia varieties and 6 Princettia test numbers.
Dümmen Orange has planted the varieties in 6, 10.5 and 13 centimeter pots. Beekenkamp Plants shows the varieties in 13 centimeter pots.
The trials are open on November 4 and 5, 2021, between 1:00 PM and 4:00 PM.
Visiting address: The Master Growers, entrance via Harteveldlaan 18a,
2675 LE Honselersdijk
Parking: Harteveldlaan 20, 2675 LE Honselersdijk
*The organizers assume that visitors will adhere to the applicable Dutch corona measures.