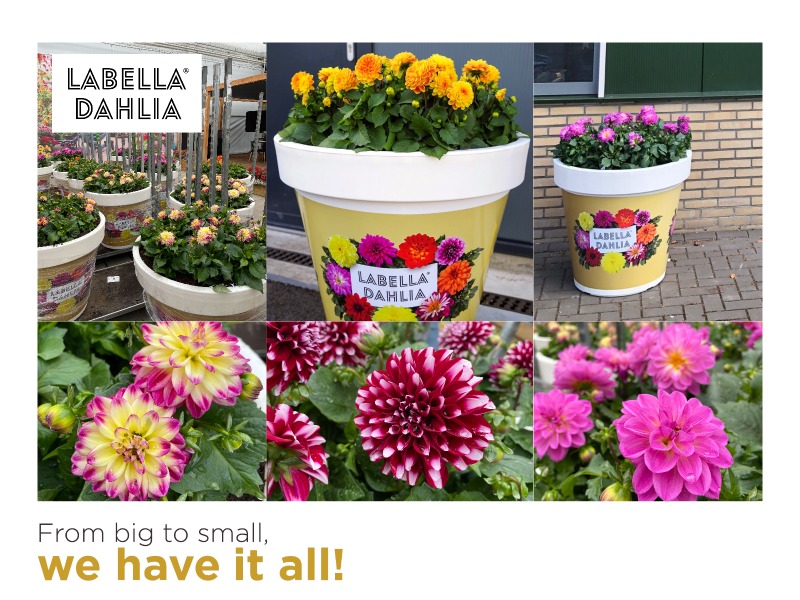 Blooming into summer with LaBella Dahlia!
MAASDIJK – The sun was still a while away this spring, but thanks to the large LaBella Dahlia pots received by Beekenkamp Plants' customers, summer has started blooming. All throughout the Netherlands they were delivered, printed LaBella Dahlia pots with a diameter of 80 cm. This extravagant summer bloomer will be in the spotlight all summer long. Not only on the grower's doorstep, but also at Beekenkamp Plants.
For instance, Beekenkamp Plants is organising a growers' day focused on LaBella Dahlia, they are bringing in influencers to promote the brand and product and they are creatively showing how versatile the range is. The starting shot for all planned activities was the action around the pots.
The purpose of this surprise campaign? You can shout all you want that your genetics are the best, but why not just prove it? And Beekenkamp Plants did just that. Dozens of pots were printed with the logo, filled with LaBella Dahlias and then distributed throughout the Netherlands. At the end of the summer, growers can determine for themselves whether the genetics are really as good as Beekenkamp Plants claims.
The brand's slogan 'From big to small, we have it all', is also being heeded. Growers will be supplied twice more this season with new LaBella Dahlias, in larger pot sizes. So they can enjoy the whole summer. Not only through the different pot sizes of plants, but also through the diversity of colours and flower shapes of LaBella Dahlia.
As a grower, are you also interested in LaBella Dahlia? Mark 5 July in your calendar, when Beekenkamp Plants will organise a growers' day with LaBella Dahlia in the spotlight. Or visit the company's Flower Trials in week 24.