TOMATO PLANT PROPAGATION
Beekenkamp's modern greenhouses in the Dutch Westland region produce tomato plants with 1, 2 or 3 tops. Grafted or ungrafted, our experienced crop specialists and grafting team ensure that your tomato crop gets off to the right start.
Our 18 hectares of modern greenhouses in the Westland region are equipped with:
Assimilation lighting up to 6,000 lux
Insect screens
A closed cultivation system with full disinfection
Diamond Opticlear
Extensive hygiene measures to meet the GSPP (Good Seed and Plant Practices) standards
Camera sorting
Certified nursery in the netherlands
Our certification allows us to guarantee the highest possible level of hygiene in tomato plant propagation. Our strict hygiene measures apply not only to all the materials in our greenhouses but also to our personnel, containers and vehicles. Our quality inspectors checkall processes on a daily basis and test the health and quality of our young plants in the laboratory.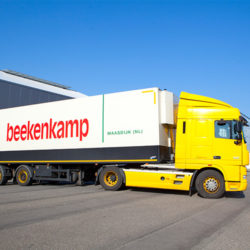 TOMATO PLANT NURSERY IN THE DUTCH WESTLAND
Our plant nurseries deliver orders throughout Europe. We deliver our young plants according to our customers' specifications: on pallets or trolleys, and in boxes or propagation trays.
Beekenkamp produces over 600 million young plants a year inits more than 30 hectares of greenhouses. Paying the greatest attention to quality and hygiene, we propagate a wide variety of vegetable plants in addition to tomatoes (such as cucumbers, aubergines and peppers) as well as open field vegetable crops.